The Reid/Foley MSM Bias Index
C
heat-Seeking Missile's
Reid/Foley MSM Bias Index
is a straightforward measurement of media bias. If the media were perfectly balanced, the Reid/Foley index would be 0, because stories of Senate Minory Leader Harry Reid's financial scandals would perfectly balance stories of Mark Foley's homosexual lust scandals.
Less coverage of Reid would reveal a leftist bias, just as more coverage of Foley would. Reverse it, and we'd be seeing a conservative bias with more Reid coverage and less Foley coverage.
(As you can see at the outset, the index is flawed. Because Reid is still in office and holds a much higher position than Foley ever held, media coverage should tip towards Reid.)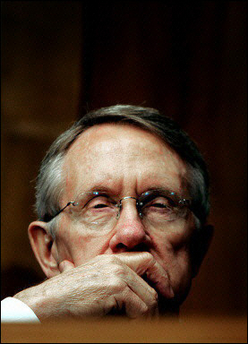 Today's reading: 27 Left
Today -- as Reid's
second scandal
broke -- Nexis revealed 36 Reid stories and 975 Foley stories; hence an index of 27 left, or 27 times more Foley stories than Reid stories. (AP and other wire stories could have been picked up in multiple papers; this is not measured via Nexis.)
MSM are not even making this one a close call!
Related Tags: Politics, Media bias, MSM, Reid, Foley