Lhasa Burning As China Masses Troops

L
ast week, China's foreign minister
offered up
a rather odd test of China's current stand on human rights:
"Ask 10 people from the street to face public security officers and ask them to say 'human rights are more important the the Olympics' 10 times or even 100 times, and I will see which security officer would put him in jail."
Apparently Chinese security officers have been briefed not to shoot people in the head for this particular demonstration against the state -- fearful, no doubt, that if they don't follow orders, it's their head that will be at the end of a rifle barrel.
It was a nice try by Yang Jiechi, but it's apparently not flying in the thin air of Tibet:
BEIJING (AP) -- Angry protesters set shops on fire in the Tibetan regional capital of Lhasa on Friday, state media and witnesses said, part of ongoing demonstrations against China's 57-year rule by Buddhist monks ahead of the Beijing Olympics in August.

Protests against Chinese rule by monks and other Tibetans took a violent turn on Friday, with shops and police vehicles set on fire in the city's ancient center. The U.S. Embassy in Beijing, meanwhile, issued an advisory to Americans, warning them to stay away from Lhasa, saying it had "received firsthand reports from American citizens in the city who report gunfire and other indications of violence."
Tibet has been seething lately, with the 49th anniversary of China's take-over of the mountain nation. These demonstrations followed the forceful termination of a protest by monks at a small temple, but China's hand has been much heavier than that this week as angry, repressed Tibetans hope to use the upcoming Olympics to embarrass China before the world.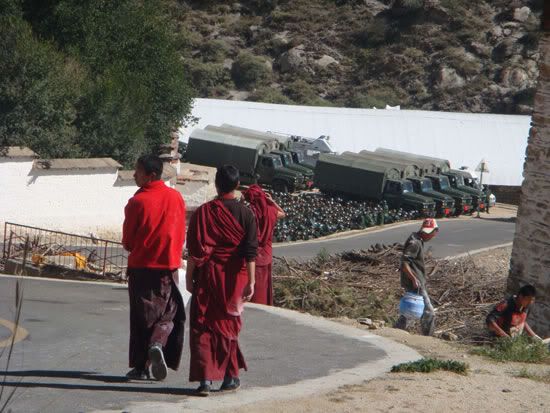 As demonstrations have grown in size over the last week, the Chinese sent troops (which you can see by the trucks in this picture) to seal off the three largest monasteries in Lhasa yesterday -- a cultural event it is difficult to find parallels with in Western culture. Think of this, though, because I think it's roughly the same: American troops sealing off the Kaaba in Mecca.
Then, last night they sealed off all roads into the city, an action frighteningly similar to the steps preceding the Tienanmen Square massacre -- a thought that no doubt has occurred to many residents of Lhasa. For more foreboding, here's
CNN
:
Opponents of Chinese rule in Tibet set fire to vehicles and shops on Friday as tear gas filled the streets and gunfire rang out in the Tibetan capital of Lhasa, according to witnesses, human rights groups and the Chinese state-run news agency. ...

On Friday, about 1,000 people hurled rocks and concrete at Chinese security forces, demolishing military trucks and pushing back riot police, a witness told CNN. Ethnic Tibetans seemed to target shops and vehicles owned by Han Chinese, the predominant ethnic group in China.

A main market in the capital was set on fire, and some Tibetans were hospitalized with serious injuries, said Kate Saunders, a spokeswoman for the International Campaign for Tibet.
China has proved itself quite savvy at maintaining control with low-profile tactics as the Olympics approach, but it appears that approach is failing in Tibet. I've learned enough not to expect protests against totalitarian regimes to lead to much, but the world's sympathies are definitely with Tibet, and the timing is perfect.
For timely updates, check out
Beijing Wide Open
.
Labels: China, Human Rights, Tibet