Dying Polar Bear Rebuttal Kit
A
funny thing happens when you search for polar bear images on the Internet.
You find a lot of pictures like this one depicting the species as cute and vulnerable, in keeping with the Greenie/Warmie mantra that all nature is cuddly and in need of protection. That protection, of course, always comes in the form of the curtailment of human advancement.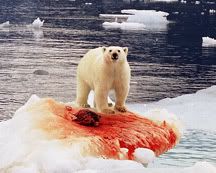 What you really have to search for are pictures like this, that show polar bears as they are -- majestic, for sure, but also fierce, nasty, brutally self-sufficient, and not much concerned with what people are up to.
"Oh, but it's the bigger picture!" the Warmies cry. "The bears don't know they're going to go extinct unless we stop global warming!"'
True enough. They don't know ... and neither do we. In fact, evidence is mounting that the polar poster child of the Warmie movement is not at risk at all, and that the more we study polar bears, the more the entire global warming religion seems about as sound as Scientology or Est.
With a hat-tip to
Ymarsakar
, here's a digest of an extensive post on the subject you can find at
Benning's Writing Pad
:
Could we send Big Al their way?
Labels: Climate change, Environmentalism, Global warming, Polar bears, Polar ice