New From China: The Date Rape Drug For Your Kids!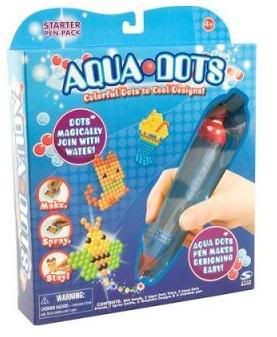 A
s if poisoning them with lead wasn't bad enough, the Chinese Commies are now drugging our children with
GHB
, the date rape drug:
U.S. consumer-products regulators are moving to get more than four million sets of arts-and-craft toys called Aqua Dots off store shelves.

The U.S. Consumer Product Safety Commission plans to announce a recall of the sets, according to CPSC spokeswoman Julie Vallese. The CPSC has received two reports of children in the U.S. swallowing Aqua Dots and they slipped into "non-responsive comas." Both children are now fine. (WSJ)
WSJ rewrote its earlier report, but I have a copy because I sent it to Incredible Wife, who produced the Voice of the Victims films on designer drugs. Here's what's missing from this report:

The bizarre nature of the children's symptoms led to speculation that the toys had been intentionally poisoned. But on Wednesday the toy's manufacturer, Moose Enterprise, of Melbourne , Australia , said the problem had been traced to a Chinese factory contracted by Moose that substituted a toxic chemical with a safe type of glue during the manufacturing process.

Moose declined to name the manufacturer but said the beads contained an adhesive solvent called "1,4 butylene glycol," which can simulate the drug gamma hydroxyl butyrate when ingested, causing seizures, coma or death. The toy hasn't been linked to any deaths.
Gamma hydroxybutyrate is GHB, an odorless and tasteless liquid. It is classified as a sedative and has long-lasting anesthetic effects on the user. Users like the relaxed, euphoric feeling it provides, but dosing is difficult. What is OK for one will knock out another. A capful will make you feel intoxicated, but two capfuls can be fatal and the addictive effects are well documented, as this mug shot of a GHB-zapped Nick Nolte reminds us.
The
most notorious GHB rape case
was that of Max Factor heir Andrew Luster, who fled to Mexico to avoid jail.
So again I ask: Why do we continue to purchase
anything
from China?
Labels: China, Foreign Trade, GHB