Hsu Corralled In Colorado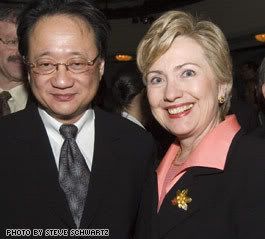 N
orman Hsu is not, as some have
speculated
, dead. But he did turn up in a hospital.
Democratic fund-raiser Norman Hsu was arrested in Colorado late Thursday after a judge issued an arrest warrant when he failed to show up for a court appearance related to a felony theft conviction.

Federal Bureau of Investigation agents took Mr. Hsu into custody at St. Mary's Hospital in Grand Junction, Colo., FBI spokesman Joseph Schadler said. (WSJ)
There's not much to add to that yet. The
Denver Post
writes more but fills in few details:
FBI agents took Hsu into custody about 7 p.m. MDT at St. Mary's Hospital in Grand Junction on charges of unlawful flight to avoid prosecution, FBI spokesman Joseph Schadler said in a statement. The circumstances surrounding Hsu's arrest were not immediately clear.

Mesa County sheriff's spokeswoman Heather Benjamin said the Sheriff's Office and the Grand Junction Police Department assisted in the arrest, but she declined to give any details.

She referred media calls to the FBI in San Francisco.
The stupidest (most corrupt?) judge in America, San Mateo CA Superior Court Judge Robert D. Foiles, who let Hsu walk on bail, passport in hand, must today be the most relieved judge in America.
Judge, two words of advice: No bail.