A Stink In The Ink At The LA Times
R
arely does one see the Left grab and twist a story as rapidly as AP jumped on the story of Fred Thompson, abortion lobbyist. Oh, did we forget to say "alleged?" So sue us.
AP wrangled its story out of an LA Times piece this a.m. alleging that Thompson, while working as a lobbyist at Arent Fox Kintner Plotkin & Kahn, was hired by National Family Planning and Reproductive Health Assn. to lobby the White House, specifically John Sununu, against a Bush proposal to prohibit abortion counseling in clinics that receive federal funds.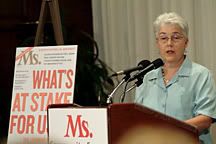 Making the allegations is the abortion group's CEO, Judith DeSarno, a flaming lefty pictured on the right. She's a bigtime Hillary supporter (not that you'd get that tidbit from the LAT), and, as an abortion rights advocate, someone well seasoned in ignoring the truth (
"Embryos are just protoplasm!"
) and spreading lies (
"There are medical reasons for partial birth abortion!"
).
While the LAT story is in the long tradition of that paper's hit pieces against anything with GOP chromosomes, the paper at least played like journalists and put info countering the abortionist's claims:
Quotes of denial from a Thompson spokesperson
No billing records exist supporting the abortionists
Quotes from Sununu saying doesn't remember ever being lobbied by Thompson on the matter and finds it highly unlikely
Now here's the AP story,
in toto
:
Thompson says no recollection of lobbying to ease abortion rules



Associated Press - July 6, 2007 8:23 PM ET

WASHINGTON (AP) - Fred Thompson says he "has no recollection" of lobbying on behalf of a family planning group.

The LA times reports that back in 1991 Thompson lobbied then President George Bush to relax a regulation that prevents federally funded clinics from offering abortion counseling.

Minutes of a 1991 meeting, cited by the Times, said Thompson had been hired to help in discussions with the president's office.

A spokesman for Thompson says it's "not unusual" for lawyers to be asked to give advice to colleagues for clients with whom they personally disagree.

But the former head of the National Family Planning and Reproductive Health Association says she specifically remembers discussing Thompson's lobbying work with him in phone conversations and during meals at Washington restaurants.

The former senator is weighing a Republican presidential bid as a social conservative.
AP leads with "no recollection" from Thompson, not the aide's strong denial; in fact, the aide's weakest quote is the only quote AP goes with. And where are the denials from Sununu? Nowhere to be found.
NewsBusters
focused nicely on the last line:
I wonder how many times they have used such language to describe any of the Democrat candidates? Have they ever said that Hillary is running as the "social liberal candidate"? I doubt it. Additionally, how many Republicans are NOT running as a social conservative, anyway? (Even Rudy tried to run as a social conservative at first, until called upon it)
The AP story, though, is the one that will move across the nation, not the LAT piece, because nearly all broadcast and print outlets subscribe to AP, while the LAT wire is far less popular. One would think that would give AP a greater sense of responsibility and a stronger commitment to fairness, but instead, they've assumed the role of news bully, owning the playground and doing what they darn well please.
But AP wouldn't have a story if the LAT hadn't gone first, and on that score, there's a lot of stink in the ink, says NewsBusters:
Of course, there's more. Nearly every person mentioned in the Times story has a heavy left-wing activist and/or Hillary Campaign connection, yet this is never once mentioned. When one discovers the backgrounds of those making these claims against Thompson, it smells more and more like a pure Hillary dirty trick swallowed whole by the AP and promulgated by the L.A.Times than a purely honest story.
The Clintons have a long history of crushing opponents under innuendo and false claims, actions that should be easy enough for a great big, serious newspaper like the LAT to investigate. Somehow I don't think we'll be seeing that story any time soon.
Labels: Fred Thompson, LA Times, Media bias