More Bumper Stickers For John Edwards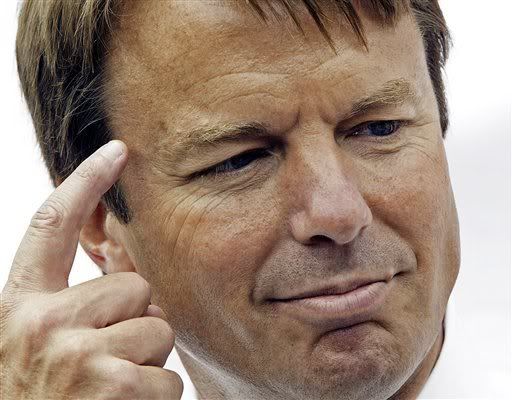 T
he global war on terror is just a bumper sticker slogan to John Edwards. Noted. Here are some alternatives:
It's Just the Pakistani War on Terror:
Security forces in Pakistan have been put on high alert after intelligence agencies warned of attacks by Al Qaeda and Taliban militants on embassies, consulates and citizens of US and UK.

Al Qaeda and the Taliban are planning suicide and rocket attacks on the embassies, consulates, NGOs, firms and citizens of the US and UK in Islamabad, Lahore and Karachi, intelligence agencies warned in reports submitted to the Interior Ministry. (Rediff News)
It's Just the Lebanese War on Terror:
BEIRUT (Reuters) - A bomb exploded next to an empty bus in a Christian suburb in east Beirut on Monday, lightly wounding seven people, a military source said.

The bomb blast occurred near a commercial centre and church, the source said. (Reuters)
It's Just the Thai War on Terror:
Thailand authorities say two bomb blasts Sunday in the country's restive south wounded 21 people, including four soldiers.

Local authorities say the first bomb exploded during a football match in a village in Yala province, wounding 17 players and spectators.

Hours later, in Narathiwat province, a roadside bomb wounded four soldiers on a foot patrol.

Thai security forces are on high alert since Thursday, when militants in Yala province killed at least 11 government-hired paramilitaries.

While Thailand has a Buddhist majority, the south is dominated by Muslims.

At least 2,200 people have died since 2004 in near-daily violence in the region. Authorities attribute much of the unrest to Islamist separatists. (VOA News)
It's Just the Thai War on Terror (#2)
Pattani, Thailand - Separatist insurgents in Thailand's Muslim deep South derailed a provincial train Monday, injuring a score of people.

Militants had unlocked the tracks overnight so that the morning train carrying 200 people from Yala for Pattani came right off the rails, said a police spokesman. (M&C News)
It's Just the Philippine War on Terror:

Philippine soldiers defused a crude bomb left inside a packed commuter bus in the volatile south of the country, an army spokesman said on Monday.

Lieutenant-Colonel Julieto Ando said the improvised bomb was found inside a bag that was left by two male passengers after a Cotabato City-bound bus made a stopover at a terminal on Sunday night. "Our troops defused the bomb placed inside a plastic pitcher and hidden in a bag under a bus seat," Ando said, adding a watch and several kilos of one-inch nails were found attached to the explosives. ...

On Friday, the U.S. embassy in Manila warned its citizens about a terrorist plot to bomb bus terminals and public markets in two Christian-dominated cities in North Cotabato province, on Mindanao island. "The embassy has information that terrorists may be planning to carry out bombings at bus terminals and public market places in Kidapawan and Makilala in North Cotabato, Mindanao over the next several days," the embassy said. (Reuters)
It's Just the American War on Terror:
The terror plot against jet fuel lines in New York has raised concerns about the lines at McCarran International Airport (Las Vegas). Police patrols around the jet fuel lines and tanks at the airport were stepped up Monday because of the arrests. (CBS)
And that's just today's bumper stickers, gleaned from the
Global Incident Map
.
Now don't brush this off just because you think John Edwards is some far out kook. According to the latest
RCP polling average
, nearly 12% of Dems favor him for the nomination.
Labels: 2008, John Edwards, War on Terror