Just Another Day In San Francisco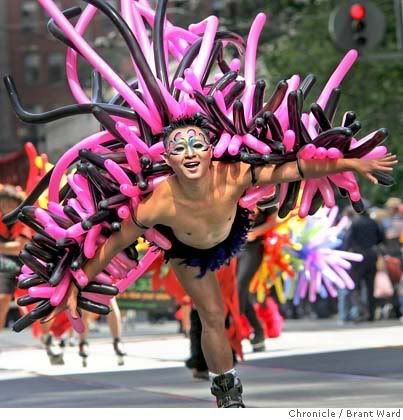 I
t was gay pride day in San Francisco yesterday, and
you can see
that it was a bit more colorful than the local conservative Republican pride day here in South OC -- an event that is so conservative no one shows for it.
Look who showed up at the parade -- Elizabeth Edwards, mom of two, wife of a somewhat girly presidential candidate.
Whatever she said to the members of the Alice B. Toklas (famous for hash-laced brownies, as I recall) Democratic Club in an effort to pander to whatever voters her odd husband might appeal to, it ultimately wasn't noteworthy enough to make the SFChron's coverage. But this did:
The parade included a retinue of politicians, from Mayor Gavin Newsom, who received applause and shouts of gratitude for his sanction of same-sex unions, to gay political leaders including Assemblyman Mark Leno, Sen. Carole Migden, and Supervisors Tom Ammiano and Bevan Dufty.

There were also an array of corporations with contingents in the parade, such as Google, Wells Fargo, Delta, Bud Light, Bank of America, Kaiser, Comcast and Macy's, to name a few.

And there were the more homespun groups -- such as the lesbian midwives, with a dozen or so marchers -- and the assorted drag queens, lion dancers, stilt walkers, balloon men and naked people. There was even a group holding a banner reading, "Straights for gay rights."
And, of course, let's not forget the Sisters of Perpetual Indulgence, an offense to most right-thinking Catholics, who probably would not have found solace when the Catholic Gays and Lesbians marched by in bikinis and headdresses.

Thank God for San Francisco. Without it, where would all these folks feel normal?
Photos: SFChron
Labels: America, Gay agenda