Cutting Funds Won't Stop The War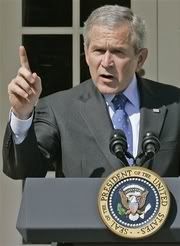 P
resident Bush
described
in today's press conference the effect the bills currently in Congress would have on the war effort, if by some miracle they were to survive a presidential veto:
If Congress fails to act in the next few weeks it will have significant consequences for our men and women in the armed forces.

As the chairman of the Joint Chiefs of Staff, General Pace, recently stated during his testimony before a House subcommittee, if Congress fails to pass a bill I can sign by mid-April, the Army will be forced to consider cutting back on equipment, equipment repair and quality-of-life initiatives for our Guard and Reserve forces. These cuts would be necessary because the money will have to be shifted to support the troops on the front lines.

The Army also would be forced to consider curtailing some training for Guard and Reserve units here at home. This would reduce their readiness and could delay their availability to mobilize for missions in Afghanistan and Iraq.

If Congress fails to pass a bill I can sign by mid-May, the problems grow even more acute.

Army would be forced to consider slowing or even freezing funding for depots where the equipment our troops depend on is repaired.

They will also have to consider delaying or curtailing the training of some active-duty forces, reducing the availability of these forces to deploy overseas. If this happens, some of the forces now deployed in Afghanistan and Iraq may need to be extended because other units are not ready to take their places.

If Congress does not act, the Army may also have to delay the formation of new brigade combat teams, preventing us from getting those troops into the pool of forces that are available to deploy. If these new teams are unavailable, we would have to ask other units to extend in the theater.

In a letter to Congress, Army Chief of Staff Gen. Pete Schoomaker put it this way: Without approval of the supplemental funds in April, we will be forced to take increasingly draconian measures which will impact Army readiness and impose hardships on our soldiers and their families.

In a time of war, it's irresponsible for the Democrat leadership in - Democratic leadership in Congress to delay for months on end while our troops in combat are waiting for the funds.
The military is going to give its combat forces its top priority, as is fitting and right and substantiated by numerous historical precedents. Dem actions to slow funds won't be felt as much on the front as at home -- tougher times for military families, less readiness, longer waits for benefits, more risk of attack.
But none of that matters to the image-conscious -- in fact, Harry Reid says that as the leader of the Senate Dems, he thinks Russ Feingold better represents the American will than even those Dems who merely demand a timetable to surrender. So, he's staking out the "Out Now!" position -- from a position of leadership, not the rabid minority.

The whole time, he'll be saying he supports the troops. If I were a Hindu, I'd be praying Reid will be reincarnated as an Army-issue jock strap. Support the troops, indeed!
Labels: Bush, Democrats, War in Iraq, War on Terror