Chalk One Up For The Hitlerites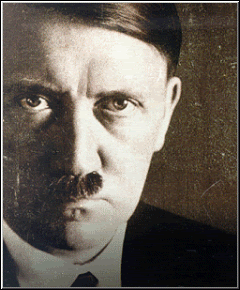 I
t's a tough getting folks to accept Nazism and good ol' Adolph these days. Ridicule, scorn, hate: That's all the Nazis ever get.
Well, one man in a small town in British Columbia made it his personal mission to make Hitler-worship more accessible and acceptable to the mainstream:
A Canadian man has been arrested after he was found walking around naked with a swastika taped to his body to mark Adolf Hitler's birthday, police said on Friday.

Police in Nanaimo, British Columbia, on Canada's Pacific coast, said they were called to the scene by concerned residents, and the man told them he was "honoring Hitler's birthday." He was detained and will undergo a psychiatric assessment. (Reuters)
You just have to ask yourself why Goebbles didn't think of that. Maybe they really could have won the war ....

Nanaimo's finest may not have been speaking for everyone when they said:

"Although the swastika symbol causes some concern and is usually associated with hate and the Nazi regime, in this instance this male posed no threat to the community."
Maybe they were right. He didn't have a Luger taped to him, after all.