25 Web SitesTo Watch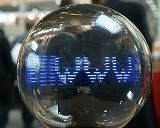 T
he amazing inventiveness explosion set off by the Internet -- unmatched in human history since the electricity revolution of a century ago -- continues in awe-inspiring depth and speed.
Yahoo just posted a
PC World list
of 25 Web sites that are very worthy of your attention. Some do things I can't even comprehend; others are delightfully simple and compelling. A few examples:
Popfly
Popfly provides a friendly, visual way to build your own mashups.If you haven't already discovered the world of mashups, Microsoft's Popfly is a good place to start. Mashups combine multiple Web-based sites or applications to produce all sorts of useful things, such as an overlay of traffic information over Google Maps. With Popfly, you can create your own mashups--and you don't have to know a lick of code to do it. Just drag prefab building blocks, connect them, and you have an instant mashup that you can add to an existing Web page or turn into its own site. For example, you can easily produce a mashup that grabs pictures from a site like Flickr and then displays them in a rotating cube.
Pageflakes
Using Pageflakes, you can customize a Web site with just the news and information you want.The Web is just as chaotic as the world--but Pageflakes can organize both of them for you. This super-customizable version of a home page enables you to pick the news and information feeds you want to read, and to specify the "flakes," or applets, you want to include. Flakes let you add all sorts of cool stuff to your page--movie times, to-do lists, a notepad, e-mail, a horoscope--even sudoku or a personal blog. If you're looking for one-stop browsing, this is it.
Swivel
Swivel charts everything from crime statistics to American Idol contestant popularity.Data and graph fanatics, you have a home. Swivel, holds a mind-boggling array of charts and graphs--from a line graph illustrating the relationship between wine consumption and crime in the United States over the past 30 years to a pie chart showing the percentage breakdown of bird flu cases in 14 Asian countries. But the site's most outstanding feature is its ability to integrate different charts containing seemingly unrelated data. Want to compare the national murder rate to the cost of a first-class stamp, or to total hours of media use in U.S. households, over the same period of time? Now you can.
PopURLs
Forget site hopping. Head to PopURLs, and scan all your headlines in one place.If you're an information hound, you probably spend lots of time jumping from Digg to Del.icio.us to YouTube to Fark to Google News to anything-dot-com. With PopURLs, you no longer need to waste time hopping around the Internet. An aggregator of all things informative, PopURLs features massive lists of headlines, videos, blogs, and content from all of those sites, as well as plenty of others.

One nice bonus is that you can search some of the sites--Del.icio.us, Flickr, and Wikipedia, among others--straight from PopURLs. It's also easy to tweak the way PopURLs looks and works, too, including customizing the layout of the feeds so you can put the ones you view most regularly on top. The scrapbook is a particularly useful feature; just click the 'Add to Scrapbook' button next to any headline, and PopURLs will save it (and up to 19 other favorite items).
Bloggers, here's one you really must consider. Because consider the nightmares if you don't:
BlogBackupOnline
If you have a blog and you aren't sure that your blog provider will always have a backup in case of a crash, head over to BlogBackupOnline pronto. The site is straightforward: Log in, enter information about your blog, and the site diligently backs it up every day (provided that you use one of the 11 supported blogging services--Blogger, Friendster, LiveJournal, Movable Type, Multiply, Serendipity, Terapad, TypePad, Vox, Windows Live Space, or WordPress). The site is also a great tool if you ever decide to move your blog from one platform to another. After you've backed up your blog, BlogBackupOnline can bring all of your old entries into a new service.

And finally, a site that's just got a wee bit of description hints at the potential to fritter away hours by the boatload. It's a subset of
Trulia
, a real estate site, and this is the enticing blurb from PC World: To view some cool
time-lapse maps
showing how an area (such as Las Vegas) has developed over time, hop to
Trulia Hindsight
.
Labels: Internet