Truth In Media: Newscaster Admits Dem Bias!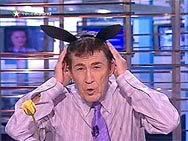 I
n this photo you can see it for yourself: A primetime TV anchor admitting on a live newscast he's a Dem sympathizer -- donkey ears and all!
Of course it's not true. No self-respecting TV anchor
(Ha! Can you imagine a self-loathing TV anchor? Didn't think so!)
would ever admit to the bias that is so evident.
No, the photo is of Madrid TV anchor
Fernando Sánchez Dragó of Telemadrid, who apparently has a bit of a Olbermann-esque mouth on him:

[Drago] apologized for comments made in a local newspaper called 20 Minutos (20 Minutes).

In the interview, Sánchez Dragó was asked about his feelings about Madrid. Never one to miss an opportunity to be controversial, he responded by saying, "Spaniards are among the dirtiest people on earth and as for Madrileños (Madrid citizens), there's no need to say any more."

Adding fuel to the fire, he continued: "And the immigrants are even worse. There are no Madrileños anymore. Now they are black, copper-colored, yellow …" (Source)

It created quite a stir, especially since Telemadrid is government owned, so Drago donned the donkey ears during a broadcast to admit he's an ass. Hmm. Maybe he is a Dem.
Labels: Democrats, Media bias, MSM, Politics